Book Tour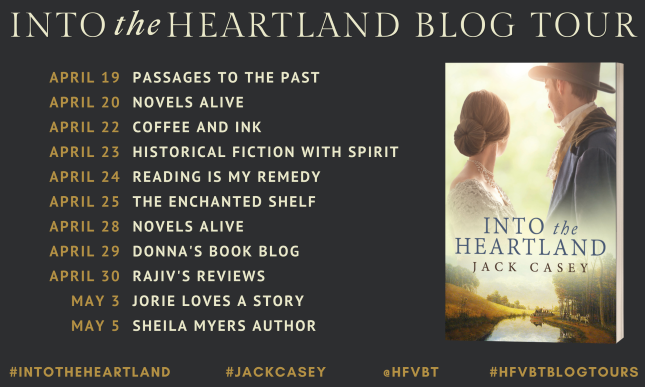 Enter to win a paperback copy of Into the Heartlands!
---
Book Tour Schedule
Monday, April 19
Review at Passages to the Past
Tuesday, April 20
Guest Post at Novels Alive
Thursday, April 22
Excerpt at Coffee and Ink
Friday, April 23
Review at Historical Fiction with Spirit
Saturday, April 24
Review at Reading is My Remedy
Sunday, April 25
Review at The Enchanted Shelf
Wednesday, April 28
Review at Novels Alive
Thursday, April 29
Excerpt at Donna's Book Blog
Friday, April 30
Review at Rajiv's Reviews
Monday, May 3
Review at Jorie Loves A Story
Wednesday, May 5
Review at Sheila Myers Author
---
INTO THE HEARTLAND, by JACK CASEY
WHERE DID I COME UP WITH THIS?
As a kid, I walked the banks of the Hudson wondering why there were so many empty warehouses.  My friends called our hometown, Troy, NY, "the armpit of the world."  It had seen far better days, but there were gracious old mansions with orate iron railings and churches with Tiffany glass.  Where did this wealth come from, and where did it go?
The Erie Canal.  In its day, the Erie Canal was NASA putting a man on the moon; government-sponsored, waaaaay out there in concept, and prohibitively expensive.  A four-foot ditch 353 miles long?  Sure.  And the people of New York gambled on this wild idea and linked the Hudson to Lake Erie.
Voila! Suddenly vast wealth flowed from the Midwest, offloaded at Troy and then down the Hudson, through Manhattan and out to the world.  New York developed a "stock market" to speculate on prices and good.  At the canal's eastern end Troy came to prominence as a port of transfer and manufacturing. That explained the former wealth and made me want to know who came up with such a harebrained idea, and how they got it done.
American politics, always a blood sport, was at the crux of the canal's creation.  New York City Mayor DeWitt Clinton saw the vast benefits the canal would bring, but few would listen.  They called it "Clinton's Folly," and he battled years of political obstruction from young Martin Van Buren and the Tammany Hall machine until he won public funding for "Clinton's Ditch."  His triumph raised New York to be largest, richest state in the 1800s, and Troy as the era's Silicon Valley.
The characters, forces and plot twists of this story were epic.  I saw a nation leaving dainty European manners behind for a stormy, brawling manifest destiny.  I imagined a refined Hudson Valley heiress working with (and falling for) a rough-hewn westerner who had the practical skills digging a canal would require.
The story began to form.  It would be a love affair with ups and downs like the canal project, interrupted by war, surmounting all obstacles, realizing a dream.  It would be a tribute to American ingenuity and willpower, spurred on by freedom to explore and invent and build.  And so I offer it again to share my vision of who we were, who we are and what we can do if we just work together.