John Hedges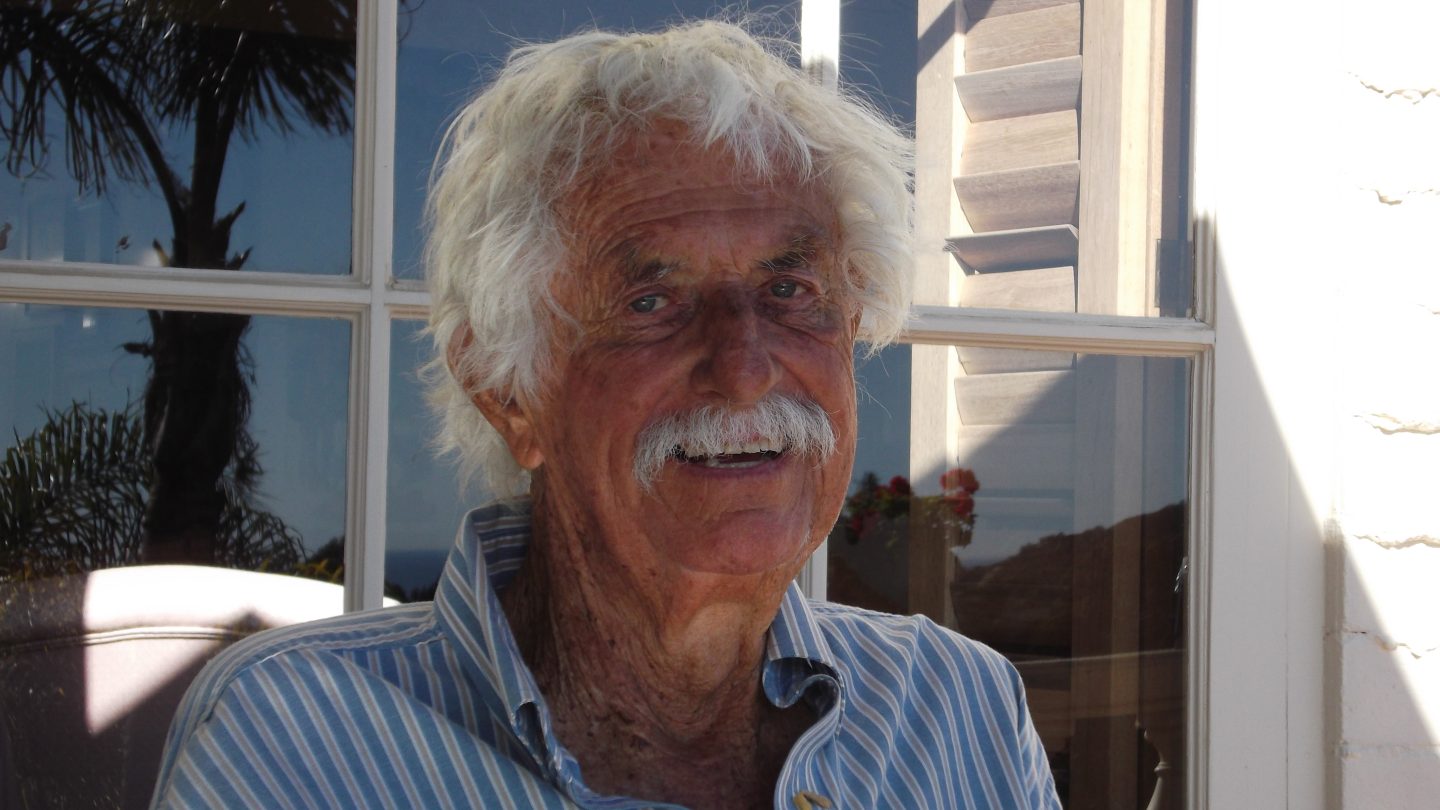 John Hedges, my dear friend from Laguna Beach, left us last Saturday. Although I live across the country in upstate New York, our families have shared much over the past forty years. His beloved Barbara asked if I would write something to honor his memory, and I offer these recollections.
In the summer of 1972, I joined college friends to paint houses in Laguna Beach, and we bought our supplies from John Hedges Paint & Glass on Forest Avenue. Walking into his shop was a step back into old California. It wasn't the railroad punch clock, or the antique cash register, or the cast-iron safe, it was the man himself. John Hedges stood behind his counter, tall and imposing as a sea captain. In his fisherman's cap, moustache and meerschaum pipe, he spun wild yarns, his blue eyes dancing, and seeing him, you knew your day just took a turn for the better.
John resembled Mark Twain, and his tall tales always brought belly laughs. He opened his shop at six each day by hanging the stars and stripes on a small pole above the door. There was coffee to help painters get started, and he invited all to come in, relax, pick up supplies, ask for advice, share a joke, and then return to the job with renewed purpose. There was a palpable glow in his store that's impossible to capture. We all felt it, and we loved going back anytime during the day. John wouldn't be rushed. His business wasn't about efficiency or the almighty buck. It was about people. He loved helping people from all walks of life. He approached each customer's concern with a happy confidence that his good old American know-how could solve any problem.
John harkened back to a simpler America. He was a boy during the Great Depression. He enlisted in the navy while still in high school, and he fought for his country in the South Pacific. He and his dad built cottages when Laguna was a Hollywood beach colony. While John had strong values, he didn't talk about them, he lived them — honesty, fair-dealing, hard work, patriotism. His family always came first, Barbara and their children John-Tom and Karen, and of course their old black lab, Mr. Bear, who was always sneaking off to the beach. John was the kindest and most authentic man I ever met.
For the summer of '73, John invited me to work with him in his store. I loved it. Each day was like an old movie with unexpected twists and odd characters: Bob Wheeler with a Marine buzz-cut and a dump truck full of trash, Italo the skinny artist from Ensenada who'd roomed with Jack LaLane in Hollywood, and there was always a supporting cast of musicians, nurses, realtors, aging starlets and surfers. It was the best job I ever had.
John loved being a host, too. On Thanksgiving, 1978, the Hedges household boasted forty at the dinner tables, with John orchestrating horseshoes and snooker and darts all day. John and Barbara took three of us to Ensenada one summer, and even visited me in Edinburgh when I was in graduate school. He was a world-class dart player, and we held the dartboard at Deacon Brodie's pub on the Royal Mile for three hours to the amazement of the cynical Scots.
John asked me to run the store one summer while he took a rare vacation with his family, fishing on the Baja. I jumped at the chance. Yet, although I hung the flag each morning, kept the customers happy and the floors swept, it wasn't the same. Missing was John's relish for life, and for every character who came in for help. I've felt this same emptiness since Barbara told me he passed away last Saturday.
John was always fond of a good practical joke, and I've been hoping this was one of them — "Rumors of my demise have been greatly exaggerated." Alas, not so. But since John never tolerated sorrow, I'm keeping it positive. Instead of mourning him, I'm remembering all the good times we had in California, Mexico and Scotland. While I will always miss John's kindness and warmth, I can trump this sadness with my great blessing of basking in his aura for so many summer days of my life. Good night, old boy!
— Jack Casey